Agwedd gadarnhaol tuag at Reoli Ymddygiad a Chynlluniau Eistedd Cyflym
Gellir gwella ymddygiad myfyrwyr â rheoli ymddygiad cyflym ac effeithiol. Arbedwch amser athrawon a lleihau'r llwyth gwaith gyda ein siartiau eistedd sy'n defnyddio 'AI' (Deallusrwydd Artiffisial).
Gwneud cais am eich demo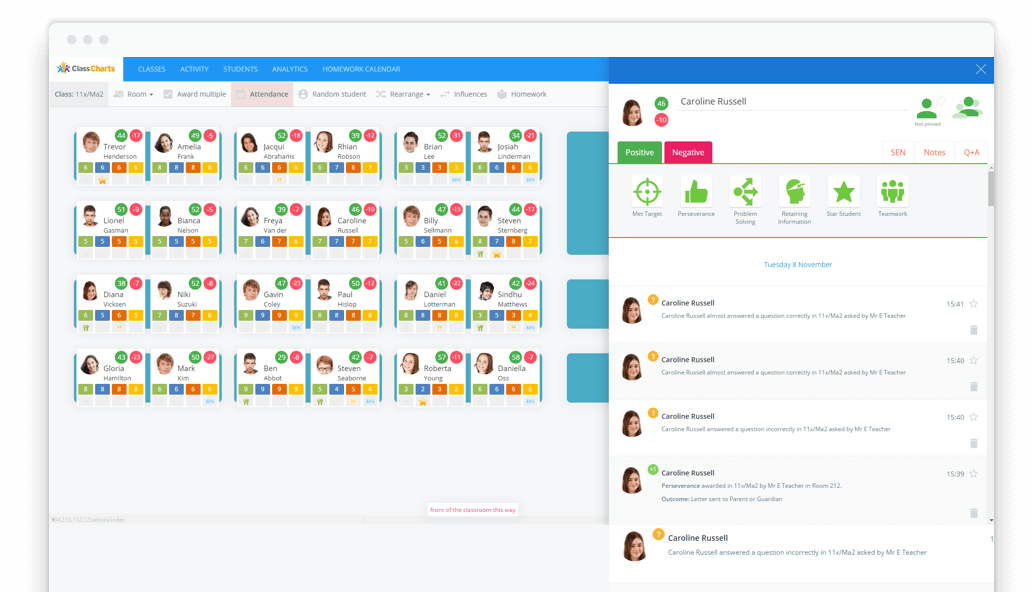 Rheoli dosbarth rhagorol

Ymgysylltu â rhieni a myfyrwyr
Mae rhannu gwybodaeth gyda rhieni & myfyrwyr yn gyflym ac yn hawdd gyda ein hapiau iOS ac Android.'

Rheoli ymddygiad cyflym
Gyrrir ein rheoli ymddygiad gan Ddeallusrwydd Artiffisial (AI) felly gallwch dracio ymddygiad disgyblion yn effeithiol a chyson gan ddefnyddio dau glic botwm.

Dadansoddiad ymddygiadol gwych
Gellir creu adroddiadau unigol ar gyfer gweinyddwyr ac athrawon ar amrantiad.
Gellir cysylltu â PowerSchool, Skyward, Campws Diderfyn a mwy
Yn hawdd a'r gyfer athrawon a phwerus ar gyfer timau arweinyddiaeth
Mae Class Charts wedi'i chynllunio gan athro â 16 mlynedd o brofiad yn yr ystafell ddosbarth. Gwyddom pa mor bwysig ydyw bod meddalwedd yn syml ac yn hawdd i'w defnyddio ar gyfer eich tîm addysgu. Deallwn hefyd yr angen i dimau arweinyddiaeth gael injan ddata bwerus sy'n adrodd yn ol ar wybodaeth mewn eiliad.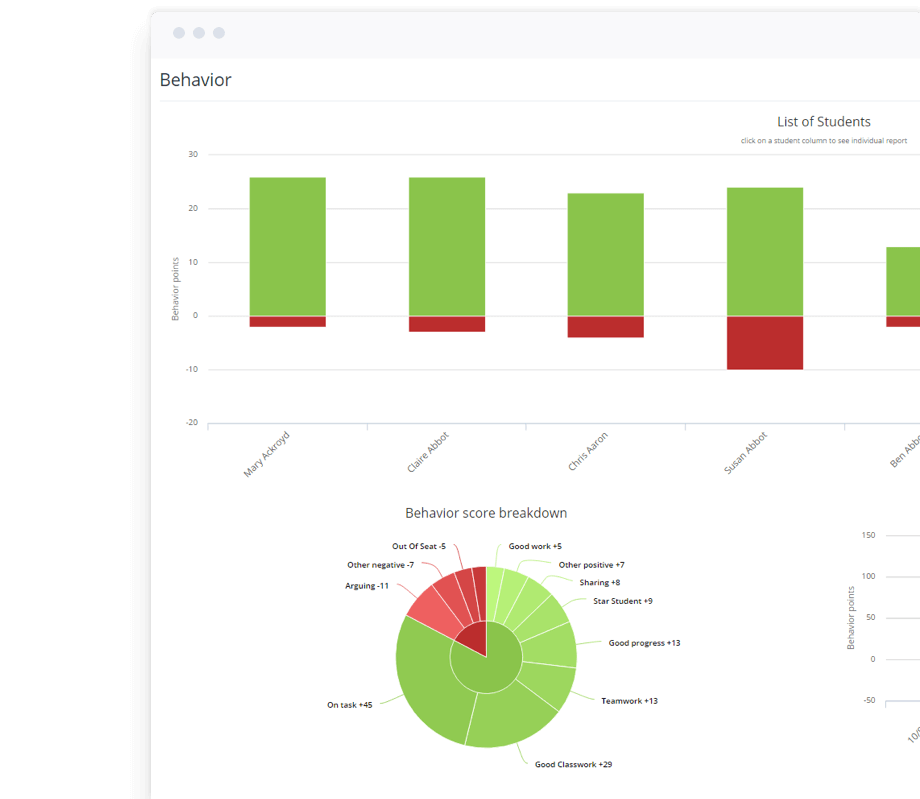 Byddai 98% o'r athrawon sy'n defnyddio'r system yn ein hargymell i gydweithiwr.
400

%

cynnydd mewn pwyntiau cadarnhaol
Mae Class Charts mor hawdd i'w ddefnyddio fel ein bod yn gweld cynnydd o 400% mewn pwyntiau cyflawniad pan daw ysgol i ddefnyddio'r feddalwedd.
100

%

Lleihad mewn amhariaeth yn y dosbarth
Speak to us about how we can reduce classroom disruption!
58

hours

per year saved by leadership teams
Through reduced classroom interruption and our easy to make seating charts.
Gyrrir gan Ddeallusrwydd Artiffisial
Mae ar bawb angen pwynt gwerthu unigryw, a'r hyn sy'n ein codi ni uwchben y gweddill ydy hyn - ni yw'r unig bobl a all, mewn gwirionedd, nodi sut mae myfyrwyr yn dylanwadu ar eraill yn yr ystafell ddosbarth. Bydd athrawon wrth eu boddau gyda'n peiriant AI awtomatig sy'n awgrymu y siartiau eistedd gorau posib ar gyfer dysgu ac ymddygiad.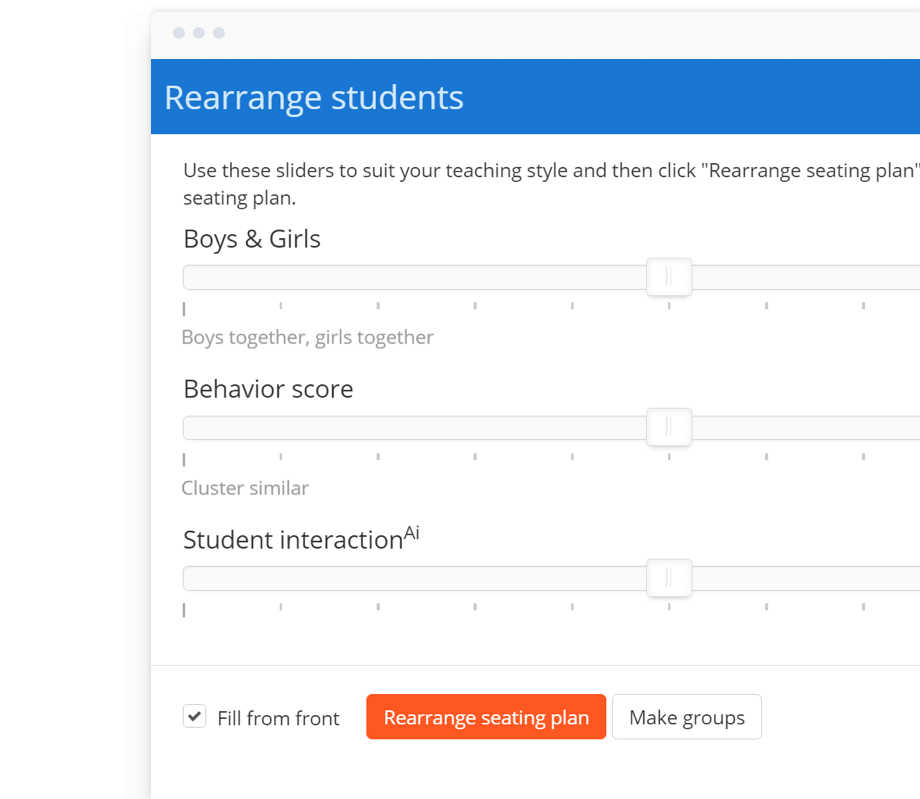 Pam mae cymaint o ysgolion yn ddefnyddio Class Charts?
Evan Rothman
Baltimore, Maryland
Due to the success of the PBIS program and the ease of Class Charts, our suspension rate decreased over 3% this past school year.
Evan Rothman
Baltimore, Maryland
Class Charts also made the PBIS program successful by making our "reward system" accessible and easy to use for teachers and students. Teachers were able to create their own rewards for their classroom, providing constant opportunities for student to use their points. Students also could easy purchase tickets to our monthly rewards, making it easier for the PBIS team to determine which students would be attending the events.
Laurie J,
USA
I tried using Class Charts to help with my seating arrangements. I have large classes and need to make adjustments to the seating arrangements but hate having to do it in excel. The Class Charts make VERY easy for me to instant changes. The students appreciate being able to come into class and look at the screen and know where to go without having to wait for me to tell them. One easy step. Thanks for helping to make my teaching day run a little smoother!!
Christi Collins
Virginia
The behaviour management feature is my favorite option within Class Charts. I use this feature daily with my students to keep them on task. I like having the ability to reward positive behaviours and redirect undesired behaviours. Not only does this allow my students to stay on task, they can visually see their progress and earnings on my Smartboard. Reinforcing positive behaviour through the visuals and sound effects that are offered have truly made a difference in my students' behaviour!
Timithia Miller
California
I use it to keep track of homework, class participation, behaviour and classroom management. I am able to project the chart through Apple TV onto one of the class' boards which really helps with classroom management
Adrian Gonzalez
California
I use it for extrinsic motivation through gamification of the classroom. Students earn points for positive behaviour and for meeting classroom expectations. Students level-up after they earn a specific number of points. Each time they level up they receive a reward from jelly beans to a choice of where they sit in class.
Matthew
Maine
I have just begun to use it as a classroom management tool. I have tried something similar for many years on paper, with only limited success. I'm VERY excited about finding you and love the interface so far. I need to buy a tablet so that I can do this while moving around the room.
Christi Collins
Virginia
I love the ability to keep a record of student attendance and behaviour throughout the year. I also enjoy being able to communicate with parents about attendance and behaviour daily. This tool truly helps to track, monitor and communicate student progress in a very efficient way. I would be lost without this wonderful tool!
Timithia Miller
California
It's an easy to use tool that enables me to keep records easily of my classes, and promotes positive activity within the classroom.
Adrian Gonzalez
California
I like the ease of use. Uploading students is simple and so is adding behaviours and making a seating chart. Although there is not a tablet app as of now, I still prefer ClassCharts over other similar applications. ClassCharts has many more features, including the AI function.
Matthew
Maine
Customisable behaviours, analytics, student access. Its pretty perfect. If I think of anything that I need that you can add for future versions, I'll send you a note. I intend to use it every day next year and have already begun my preparations. Thanks!
Blaenorol
Nesaf
Ydych yn hoffi yr hyn y gwelwch?
Gadewch inni ddangos i chi sut i arbed amser, lleihau llwyth gwaith athrawon a chwalu'r rhwystrau mawr i ddysgu! Ymunwch â dros 180,000 o athrawon eraill sydd eisoes yn defnyddio ClassCharts.
Prisio
Gwneud cais am eich demo