Uma Abordagem Positiva para a Gestão de Comportamento e Diagramas de Assentos Instantâneos
Melhore o comportamento do estudante com o nosso rápido e eficaz gestor de comportamento. Economiza tempo aos professores e reduz a carga de trabalho com o nosso diagrama de lugares IA.
Solicitar a sua demonstração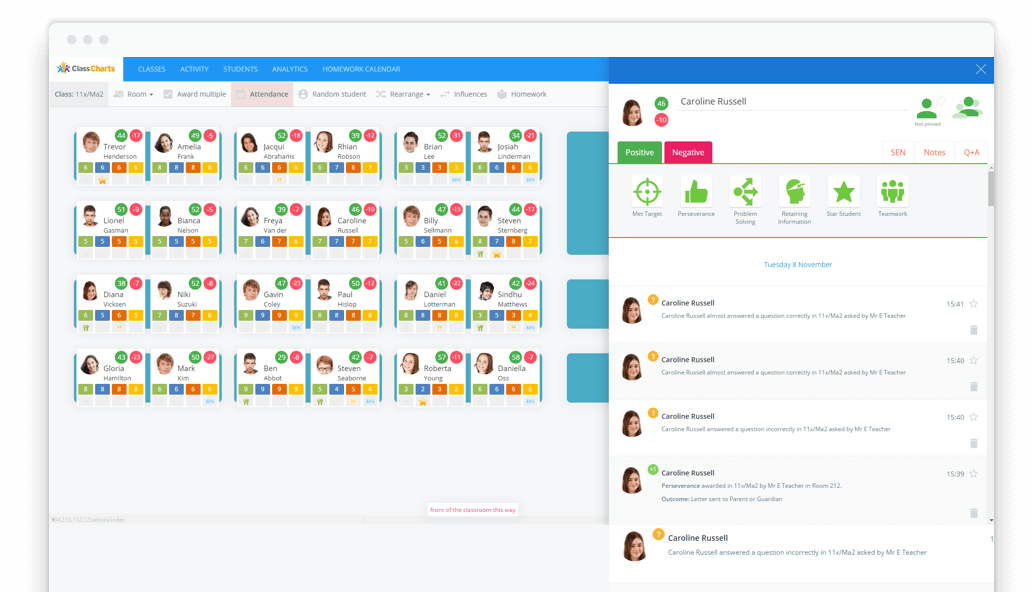 Gestão de sala de aula excelente

Participação de Pai e Aluno
Partilhar informação com os pais & alunos é rápido e fácil com as nossas Aplicações iOS e Android.'

Gestão rápida de comportamento
A nossa gestão de comportamento é impulsionada pela Inteligência Artificial, por isso pode controlar efetivamente e de forma consciente os comportamentos dos estudantes em apenas dois cliques.

Boa análise de comportamento
Os relatórios personalizados podem ser criados para os administradores e professores num instante.
Conecte-se com PowerSchool, Skyward, Infinite Campus e muito mais
Fácil para os professores, Poderoso para as equipas de liderança
Class Charts foi projetado por um professor com 16 anos de experiência na atividade. Sabemos como é importante que o software seja simples e fácil de usar para a sua equipa de ensino e que entenda as necessidades das equipas de liderança de forma a alcançar um poderoso mecanismo de relatórios, que lhes fornece em segundos a informação que precisam.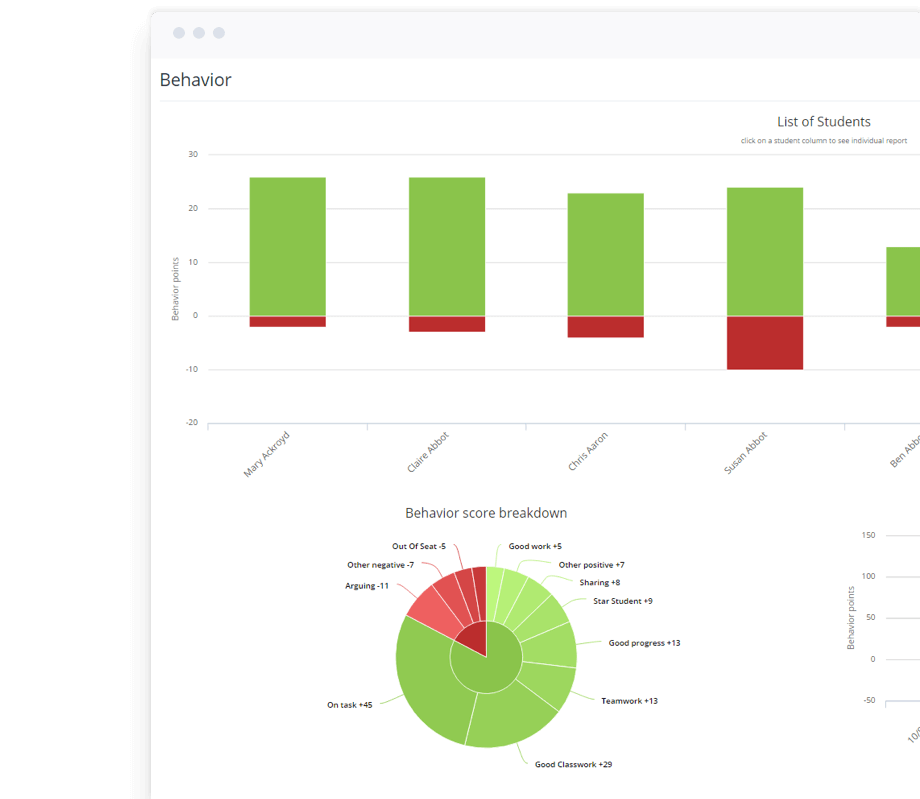 98% dos professores que usam o sistema, recomendariam-nos a um colega.
400

%

aumento de pontos positivos
Class Charts é tão fácil de usar, que vemos um aumento nos pontos de resultados acima dos 400%, assim que uma escola entra a bordo.
100

%

Perturbação de sala de aula reduzida
Speak to us about how we can reduce classroom disruption!
58

hours

per year saved by leadership teams
Through reduced classroom interruption and our easy to make seating charts.
Impulsionado por Inteligência Artificial
Todos necessitam de um único ponto de venda e o nosso é que somos as únicas pessoas que podem realmente identificar como os alunos se influenciam entre eles na sala de aula. Os professores irão adorar a forma como o nosso mecanismo IA sugere automaticamente os diagramas de assentos otimizados para a aprendizagem e comportamento.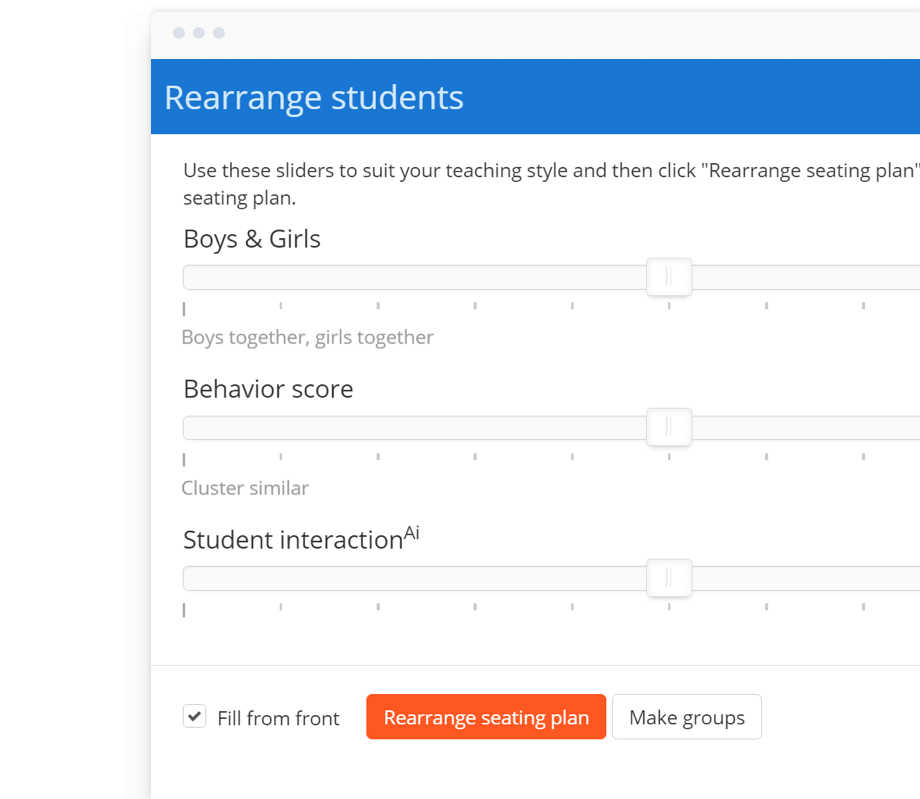 Porque razão tantas escolas usam ClassCharts?
Evan Rothman
Baltimore, Maryland
Due to the success of the PBIS program and the ease of Class Charts, our suspension rate decreased over 3% this past school year.
Evan Rothman
Baltimore, Maryland
Class Charts also made the PBIS program successful by making our "reward system" accessible and easy to use for teachers and students. Teachers were able to create their own rewards for their classroom, providing constant opportunities for student to use their points. Students also could easy purchase tickets to our monthly rewards, making it easier for the PBIS team to determine which students would be attending the events.
Laurie J,
USA
I tried using Class Charts to help with my seating arrangements. I have large classes and need to make adjustments to the seating arrangements but hate having to do it in excel. The Class Charts make VERY easy for me to instant changes. The students appreciate being able to come into class and look at the screen and know where to go without having to wait for me to tell them. One easy step. Thanks for helping to make my teaching day run a little smoother!!
Christi Collins
Virginia
The behaviour management feature is my favorite option within Class Charts. I use this feature daily with my students to keep them on task. I like having the ability to reward positive behaviours and redirect undesired behaviours. Not only does this allow my students to stay on task, they can visually see their progress and earnings on my Smartboard. Reinforcing positive behaviour through the visuals and sound effects that are offered have truly made a difference in my students' behaviour!
Timithia Miller
California
I use it to keep track of homework, class participation, behaviour and classroom management. I am able to project the chart through Apple TV onto one of the class' boards which really helps with classroom management
Adrian Gonzalez
California
I use it for extrinsic motivation through gamification of the classroom. Students earn points for positive behaviour and for meeting classroom expectations. Students level-up after they earn a specific number of points. Each time they level up they receive a reward from jelly beans to a choice of where they sit in class.
Matthew
Maine
I have just begun to use it as a classroom management tool. I have tried something similar for many years on paper, with only limited success. I'm VERY excited about finding you and love the interface so far. I need to buy a tablet so that I can do this while moving around the room.
Christi Collins
Virginia
I love the ability to keep a record of student attendance and behaviour throughout the year. I also enjoy being able to communicate with parents about attendance and behaviour daily. This tool truly helps to track, monitor and communicate student progress in a very efficient way. I would be lost without this wonderful tool!
Timithia Miller
California
It's an easy to use tool that enables me to keep records easily of my classes, and promotes positive activity within the classroom.
Adrian Gonzalez
California
I like the ease of use. Uploading students is simple and so is adding behaviours and making a seating chart. Although there is not a tablet app as of now, I still prefer ClassCharts over other similar applications. ClassCharts has many more features, including the AI function.
Matthew
Maine
Customisable behaviours, analytics, student access. Its pretty perfect. If I think of anything that I need that you can add for future versions, I'll send you a note. I intend to use it every day next year and have already begun my preparations. Thanks!
Anterior
Seguinte
Como é que vê?
Deixe-nos mostrar-lhe como economizar tempo, reduzir a carga de trabalho dos professores e remover as grandes barreiras à aprendizagem! Junte-se a mais de 180.000 outros professores que já usam ClassCharts.
Preços
Solicitar a sua demonstração